The Best Salt Spreaders in Northeast Ohio | Cleveland, Akron, Bedford, Twinsburg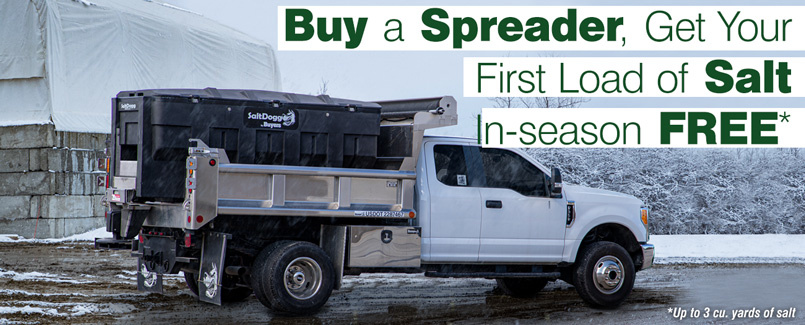 We have the full line of Buyers Products' SaltDogg Salt Spreaders for sale at our shop in Oakwood Village, OH. These include:
Walk-behind Spreaders (great for deicing sidewalks!)
ATV & UTV Spreaders (great year-round to deice, spread fertilizer, and more)
Tailgate Salt Spreaders for Trucks, Jeeps, and SUVs
Hopper Spreaders for Pickups
Mid-Size Spreaders for Platform Bodies, Dump Bodies, and Larger Pickup Trucks
Replacement Tailgate Spreaders for Dump Bodies
Municipal Spreaders
Combo Body Dump Spreaders
Top Features of SaltDogg Salt Spreaders
Capacities ranging from 4 cubic feet to 16 cubic yards and beyond
Corrosion resistant stainless steel or poly hoppers
Powerful auger or conveyor chain feeds
Variable speed in-cab controls on most models
Ready-to-work out-of-the-box with included accessories
Made right here in Northeast Ohio at Buyers' manufacturing facility in Mentor, OH
Your One-Stop-Shop for All Your Salt Spreading Needs in the Greater Cleveland / Akron Area
In addition to the salt spreaders themselves, we also offer:
Expert installation
Ongoing maintenance, repairs, and tune-ups
Whether you're just getting into the deicing game or you're a seasoned veteran, we are here to serve every salt spreader in Cleveland, Akron, Bedford, Twinsburg, and all surrounding areas. 
For more information or to get a quote, give us a call at 440-701-2000.
Salt Spreader Financing Available
Buy today, don't pay for 90 days. Click here for details.
Check Out These Videos to See SaltDogg Salt Spreaders in Action